Ocean Cruise Terminal - Berth 46
One of Southampton's newest and busiest terminals, Ocean Cruise Terminal has a host of amenities to make your time there as straightforward and comfortable as possible.

Getting Here
By cr - Getting there is easy. Just off the A33, Platform Road head for Dock Gate 4. Make sure to leave an extra 5-10 minutes, as traffic can get heavy during peak time. You must have pre-booked port parking before you arrive, speak to us about convenient and affordable parking options.
By Rail - Southampton Central is the closest train station, approximately a 30 minute walk to Ocean Terminal. While a bus runs between Town Quay and the station, it does stop a good 5 minute walk away, despite the ship seeming within touching distance!
By Taxi - Fully licensed taxi ranks are available either side of the station, with plenty of clearly designated areas for pre-booked taxis to wait. It should cost around £6-£7, but may cost more on weekends and bank holidays. Luggage shouldn't cost any extra. Private hire taxis can be booked by calling WestQuay Cars on 02380 999 999. Due to port regulations, you will be charged an extra £1 if you get a taxi from the port upon disembarkation.
By Air - The nearest airport is Southampton. Taxi's are the quickest route to the Port if you are flying in, however buses and trains are also frequent.
Dropping off your Luggage
As you approach the terminal, to your left is the baggage handling area. Drop-off is located adjacent. Porters are quick to help with your luggage. If parking, you will need to bring your luggage over to this area yourself. There's no need to worry if you're unsure. With clear signage and staff on hand, every step of the way has been thoroughly thought out.
Where to Park
Short stay parking, located just behind the coach bays, is to your right as you face the terminal. Starting at £1 per hour, prices rise to £10 for 24 hours. Long stay parking is situated behind the short stay car park. It's not available on the day, so don't leave booking a space until the last moment. Speak to us about convenient and affordable parking options.
Smoking Area
Smoking is not permitted in the terminal. As you approach the terminal from the car parks, the designated smoking area is just in front of you, to the right hand side.
Inside the Terminal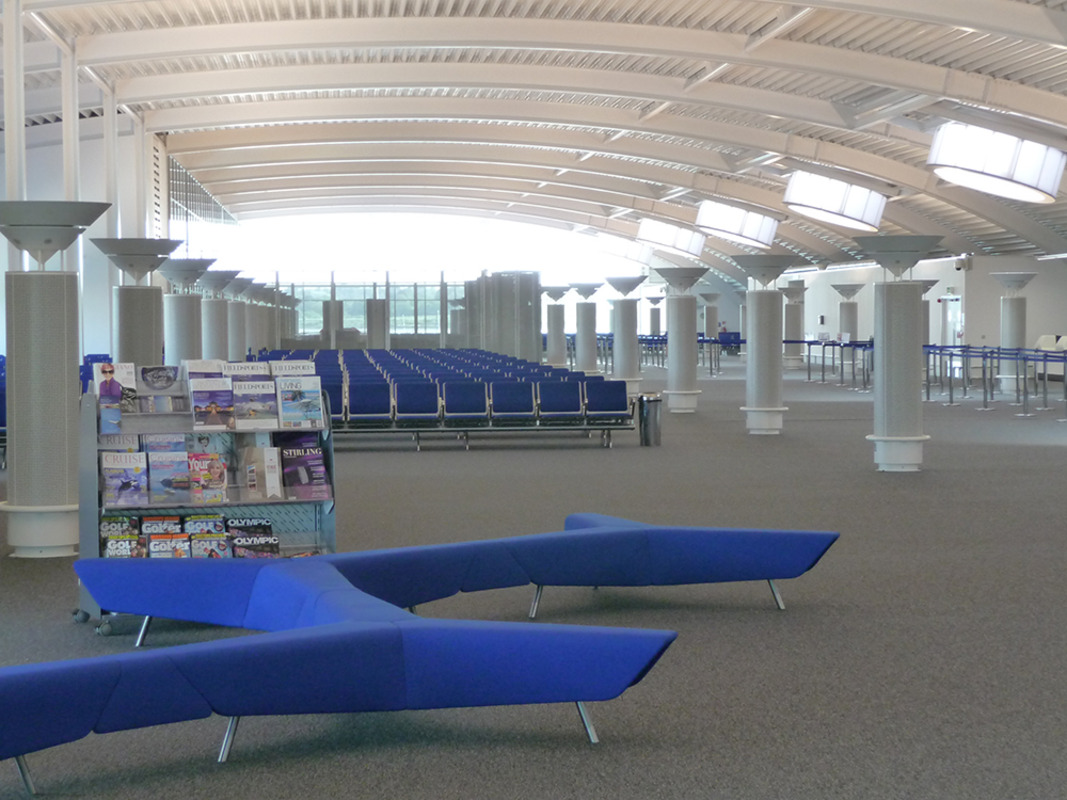 Things can look a little hectic when you first arrive. Two large doors frame the front of the building both sets lead into the same reception area, so there's no need to worry about entering the wrong end. Seating for 100-150 is located downstairs. If you are waiting for a family member or friend to park, it's a good idea to take a few minutes to wait and relax down here.
A large magazine stand can be found in the window. Filled with a wide range of high-quality glossy magazines, these are complimentary. A Map & Guide to the city is also available from here. A bank of three vending machines can be found just past the seating, along with a free water cooler.
Grabbing a Bite to Eat
Café Ceanos offer a range of refreshments in the departure lounge, with a good selection of food and drink available. Fresh tea and coffee are available for those early starts, as well as sandwiches and confectionery. For those wishing to start their holidays early alcoholic beverages are also available.
Toilets are located on both levels. Baby changing facilities are upstairs, towards the back of the terminal.
Check-In
For this, you will need to head upstairs. An escalator, stairs and a lift are available. Check-in staff will be on hand to guide you to where you need to go. Priority check-in takes up the first 3-5 desks, with a separate queue clearly marked. Around 30-40 desks are available in total.